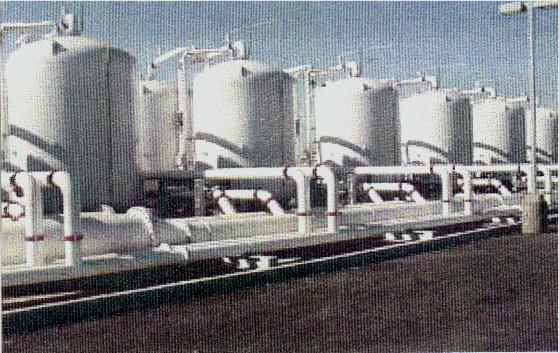 16 mgpd (11,000 gpm) Activated Carbon Filtration Plant in Southern California - May 2002
Total annual consumption of bulk activated carbon in the USA is predicted to grow from 350 million to 450 million pounds by the year 2004! By 2017 the US demand for all activated carbons is expected to reach 1.3 billion pounds per year! An impressive 14.5% annual growth rate. Global Activated Carbon Market to Cross US$3 Billion or 2.3 Million Metric Tons by 2017 ($USD1,300/MT). With the rising demand from the global industrial environmental protection, home/automotive environmental protection, water purification and other fields, the world's demand for activated carbon is expected to hit 1.733 million tons in 2017. The growth potential for companies like United Manufacturing International 2000 is staggering!
From Southern California to New England and from the North West USA to Florida, new Activated Carbon filtration plants and water treatment facilities are being built. With the emphasis on Municipal WTPs to meet the Safe Drinking Water Act and the Disinfection Byproducts Rule - the future for water treatment professionals looks very promising. When you add to this, the already existing demand for bulk GAC services, EPA Superfund Projects, Federal DoD & DoE sites, Environmental Remediation, Food & Beverage applications, the Pharmaceutical & Chemical industries along with the 21st century expansion of Petroleum Refining and associated Merox and Honeycomb carbon requirements, we have much to be excited about! If you are an activated carbon producer, enduser, Environmental Professional or Municipal WTP Officer - we invite you to partner with UMI-2000 - to prosper in our endeavor - to provide the best activated carbon and adsorption filter equipment in the world!
800 - 2,400 gpm Modular GAC Adsorption System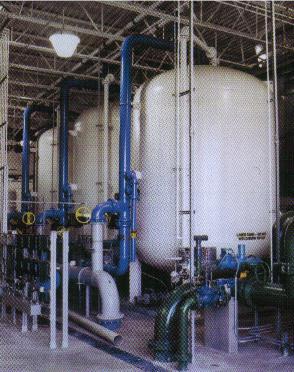 Designed for ease of expansion to meet future demand - Colorado USA 2002